June 2021
Join "Swaha" for a beautiful evening of live music, chanting, meditation and spiritual discussion.
Find out more »
Group mentoring and development for Yoga Teachers to help broaden, deepen and purify your teaching.
The aim of this session is to guide you to be a better teacher, to alleviate concerns, deal with teaching issues, broaden your skills, refresh your knowledge, find community & enjoy connection with other teachers.
Find out more »
October 2021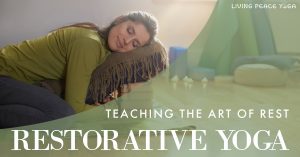 Restorative yoga is a slow and mindful practice, which usually involves the use of props such as bolsters, blocks, blankets, straps and walls, to aid the student in holding a pose for an extended period of time. Using props allows the student to feel "supported" and "safe", and therefore, the unconscious and habitual muscle tension has a chance to be dissolved and released. This practice leads the yogi towards a more healing and recuperative experience, achieving a deep level of relaxation in body, breath and mind.
Find out more »
+ Export Events