Move and Soothe – Yoga and Live Music
August 6 @ 9:00 am

-

10:45 am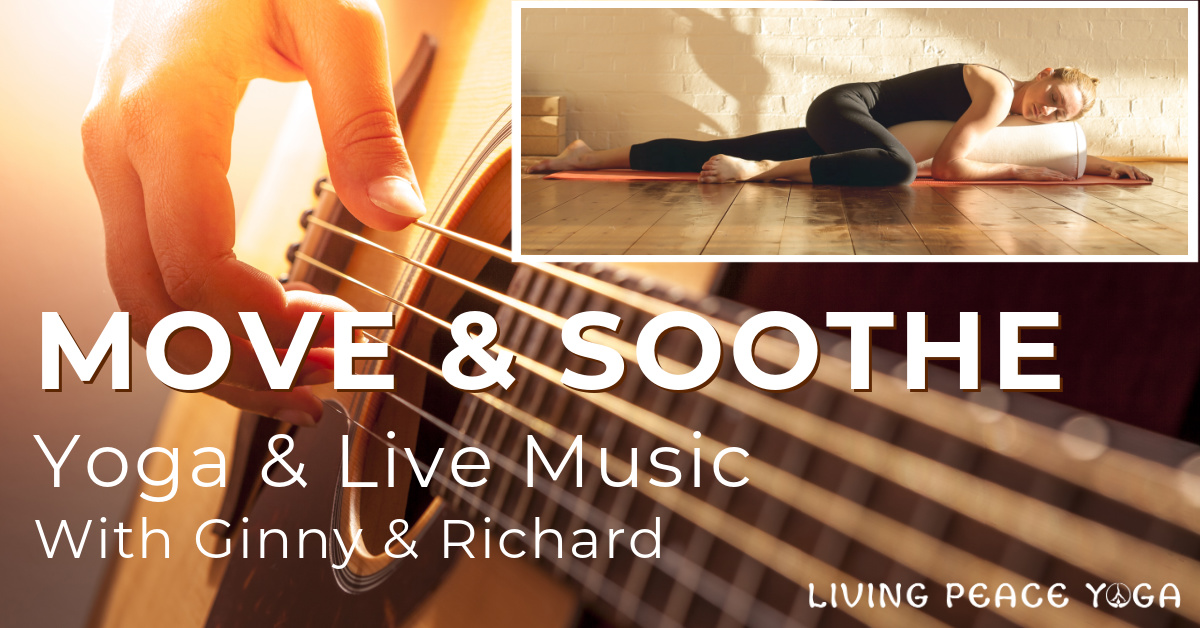 Experience the healing power of yoga, live music, and deep rest.
The morning will consist of gentle yoga, movement, restorative postures, breathing practices, meditation and chanting, all encompassed with live guitar with Richard Turner and Ginny Clarke.
Music and yoga are both such healing modalities. No doubt at some stage you've turned on the radio and an old song is playing which automatically evokes feelings and memories of joy or love or simply happy times. The vibration of music can soothe the mind and the nervous system, and accompanied with the power of yoga, can help to release old habitual tension and return us to the innate state of peace.
Expect to move in unison as the power of music weaves through the room and through our hearts, bringing us back home to the stillness and love living within.
Date: Sunday 6th August 2023
About the Facilitators:
Ginny Clarke
is a devoted, senior yoga teacher and yoga therapist and co-owner of Living Peace Yoga. She has been teaching yoga since 2002 and her passion is to help people know their bodies intimately and work towards healing mind, body and spirit through the vast array of techniques and wisdom which yoga offers. She has been in a variety of kirtan bands since 2008 and is honoured to share this devotional practice which uplifts and connects us back to our divine nature.
Richard Turner is a musician who has devoted his life to exploring the transformative power of music and meditation. As a kirtan singer and musician, Richard creates a space where participants can come together to sing, dance, and meditate, finding solace and inspiration in the ancient practice of chanting. With a lifetime of musical experience under his belt, Richard has played in a variety of bands and has a deep understanding of the ways in which music can bring people together and help them to connect with their inner selves. He is also a talented songwriter, and his original compositions are infused with the passion and joy that he brings to every performance. Richard believes that chanting and meditation can help us to achieve higher levels of awareness and understanding of the world around us. He is dedicated to helping others on their spiritual journeys, and his kirtan gatherings are a testament to his belief in the power of music to bring people together and bring about positive change in the world.